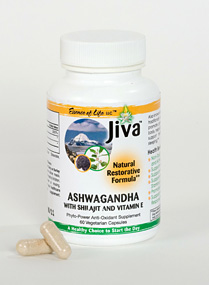 Price: $22.95

Jiva Ashwagandha Plus

JIVA Ashwagandha: Natural Health Restorative formula contains Vitamin E and Shilajit to enhance the body's resistance to everyday stresses and fatigue. All ingredients are premium quality, 100% natural and vegetarian/vegan with no added stimulant, wheat, gluten, or MSG.

Also known as Indian ginseng, ashwagandha has been traditionally used in the Ayurvedic system to increase health and longevity, revitalize the body in debilitated conditions, strengthen the body's resistance against disease and adverse environmental factors, and normalize physiological function such as sleeping. Various studies indicated that ashwagandha has significant anti-stress adaptogenic activity, confirming the use of ashwagandha to increase the use body's resistance to stresses such as trauma, anxiety, and fatigue. Ashwagandha has also been shown to exhibit anti-depressant effect, which suggested its potential use to calm the mind.

Suggested Use
For health maintenance 1-2 capsules a day. To support a healthy heart and maintain healthy immune system: 2 capsules twice a day.

Warnings
If you are pregnant or nursing, please consult your healthcare practitioner before taking any dietary supplement.
Ingredients