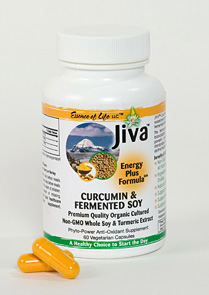 Price: $43.95

Jiva Curcumin & Fermented Soy Plus

JIVA Curcumin and Fermented Soy Energy Plus Capsule Formulation is a patent pending proprietary formulation using patented curcumin, bioperine and organically grown, non-GMO fermented whole soy beans, and other all natural herbs and spices, all of which have powerful antioxidant properties and are documented to have positive health benefits.

It contain's powerful anti-inflammatory properties to help support and maintain optimal bone, joint and cartilage health. Its unique blend offers a holistic and beneficial effect on the body's physiology to provide optimal health and wellness from chronic inflammatory and degenerative conditions.

Extracted from the roots of the curcuma longa plant, Curcumin is a member of the ginger family, and is the active ingredient of turmeric that gives it a rich yellow color. While Curcumin is not used in conventional medicine, it is widely prescribed in Indian medicine as a potent remedy for liver disorders, rheumatism, diabetic wounds, digestive aids, runny nose, cough, and sinusitis. Traditional Chinese medicine uses curcumin as a treatment for diseases associated with abdominal pain, and was used in ancient Hindu medicine as a treatment for sprains and swelling.

Suggested Use For health maintenance 1-2 capsules before meals. To support immune system and joint health: 2 capsules 3 times a day before meals.

Warnings
If you are pregnant or nursing, please consult your healthcare practitioner before taking any dietary supplement.
Ingredients