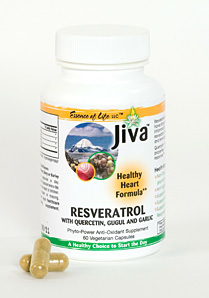 Price: $29.95

Jiva Resveratrol Plus

JIVA Resveratrol Plus Capsule Formula Contains potent resveratrol blended with quercetin, gugul extract, and garlic to synergistically support optimal cardiovascular health.

Resveratrol is found in the skin of red grapes, berries, and peanuts, and it is also a constituent of red wine. A number of health benefits of Resveratrol have been reported such as antiviral, neuroprotective, antiaging, anti-inflammatory, and life prolonging effects. It has been speculated that Resveratrol at low does may have cardioprotective activity by modulating vascular cell function, inhibits LDL oxidation, suppresses platelet aggregation, and reduces myocardial damage during ischemia-reperfusion. Besides, various studies had demonstrated that Resveratrol may block the multiple process of carcinogenesis at various stages: tumor initiation, promotion, and progression, which account for resveratrol's chemopreventive mechanism.

Suggested Use
For health maintenance 1-2 capsules a day. To support a healthy heart and maintain healthy immune system: 2 capsules twice a day.

Warnings
If you are pregnant or nursing, please consult your healthcare practitioner before taking any dietary supplement.
Ingredients